My Blog
Posts for tag: dentures
By Cental Valley Dentist
June 14, 2018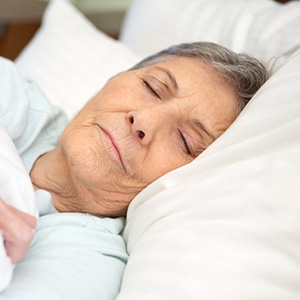 Perhaps you've heard the old saying: "Take care of your dentures and your dentures will take care of you." Well, maybe it's not that old—but it's still a sensible notion. Maintaining your dentures by routinely cleaning them and having them checked for fit will improve their longevity.
There's one other thing you should include on your maintenance routine—avoid wearing your dentures 24/7, especially while you sleep. This bad habit could lead to some unpleasant consequences.
For one, wearing dentures continuously can accelerate bone loss in the jaw that eventually causes your dentures to lose their comfortable fit. Bone loss is a natural consequence of tooth loss because the bone no longer receives the stimulation to grow transmitted by the teeth during chewing. Dentures can't transmit this stimulus; what's more, the pressure they place on the gums and underlying bony ridges could make bone loss worse. You can relieve this gum pressure at night by taking them out.
Dentures can also become a breeding ground for bacteria and fungi that cause disease, irritation and unpleasant mouth odors. Taking dentures out at night deprives these microorganisms of a prime opportunity to carry on business as usual—and it's also a great time to clean your dentures. People who sleep with their dentures in their mouth are more likely to have gum or oral yeast infections and higher levels of proteins produced by white cells that increase inflammation. That could contribute to other diseases throughout the body.
Besides taking your dentures out at night, you should also practice other daily hygiene tasks. Remove your dentures after eating and rinse them with clean water. Brush your dentures daily with a soft-bristled brush and dish or antibacterial soap or dental cleanser (no toothpaste—it's too abrasive for denture surfaces). Be sure you clean your gums and tongue every day too. When your dentures are out, store them in clean water or preferably an alkaline peroxide-based solution.
Removing your dentures at night and these other good habits will help extend the life and fit of your dentures. It could also help keep the rest of you healthy.
If you would like more information on denture care, please contact us or schedule an appointment for a consultation. You can also learn more about this topic by reading the Dear Doctor magazine article "Sleeping in Dentures: A Habit that Can Cause Health Problems."
By Cental Valley Dentist
May 25, 2018
People who've lost all their teeth (a condition known as edentulism) face a decision on how to restore their lost function and appearance. And there are a number of options to consider.
A fixed bridge supported by dental implants, for example, is a good choice for patients who still have sufficient bone structure in their jaw. It's not a good choice, however, for those with the opposite situation — who've experienced significant bone loss which has also affected their facial structure. For them, there's a better alternative that also uses implants for support — the overdenture.
An overdenture is similar to a traditional denture, in that it's made of life-like crowns permanently set in denture plastic, and may either partially or fully cover the roof of the mouth. The main difference, though, is that unlike traditional dentures which rest for support on the gum ridges, an overdenture is supported by strategically placed implants that the denture fits over and connects to — hence the name "overdenture."
There are a number of advantages for an overdenture, especially for patients with bone loss. A removable, implant-supported denture can be designed to replace lost tissues that have altered facial appearance — to "fill in" the face and restore aesthetic harmony. Patients who've previously worn dentures will also often find their speech better improved than with fixed bridgework.
Because it's removable, an overdenture and the underlying gums are easier to clean, which helps inhibit disease and lessen further bone loss. It also allows you to properly care for the denture, which can extend its longevity and reduce future potential maintenance and replacement costs.
If you would like to consider removable overdentures as an option, you should begin first with a thorough oral exam that includes evaluating the status of your bone, jaw and facial structure. From there we can advise you if overdentures are the best choice for you.
If you would like more information on overdentures and other restoration options, please contact us or schedule an appointment for a consultation. You can also learn more about this topic by reading the Dear Doctor magazine article "Fixed vs. Removable."
By Cental Valley Dentist
January 11, 2018
Dentures, also known as "false teeth," are oral appliances made of plastic resin. The great thing about dentures is that they are designed
to hide the fact that you have lost your teeth. If you're interested in getting dentures or have questions, the office of your dentist is located in Manteca and Stockton, CA.
Here are a few things to take into consideration before meeting your dentist:
How do people lose teeth?
As people age, teeth deteriorate, but sometimes age isn't the cause. Here are a few reasons:
Tooth decay due to cavities and poor oral hygiene is a factor contributing to individuals losing their teeth.
Gum disease, also known as periodontal disease, is caused by the buildup of plaque, so brushing your teeth, flossing and visiting your doctor for your bi-yearly appointment is a must.
Injury due to sports are common and should be treated as a medical emergency, so go to your dentist as soon as you notice a knocked-out tooth.
What types of dentures does your Manteca and Stockton dentist offer:
Full dentures, or complete dentures, are used when a person has lost all or most of their teeth. The full denture can be installed on the upper jaw, lower jaw or both at the same time. In order for Dr. Rujul Parikh to perform this procedure, however, the patient's gums need to be restored and fully healed, which may take somewhere between 6 to 12 months.

Immediate dentures are worn during the healing process though. The patient receives immediate dentures, also known as conventional dentures, that are adjusted due to the natural shrinkage of the gums.
Overdentures, on the other, is used for patients suffering from a few missing teeth. They fit over the patient's natural, intact teeth or dental implants, which provide it with the stability it needs.
Partial dentures are used when several, but not all of your teeth are missing. The denture has replacement teeth attached to a gum-colored base made of plastic. The partial dentures are then connected to your teeth with metal clasps.
For more information about dentures, contact your dentist's office in Manteca or Stockton, CA. Dr. Rujul Parikh can hep with your dental care!