My Blog
Posts for tag: dental injury
By Cental Valley Dentist
December 01, 2018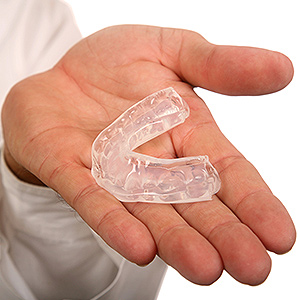 Athletes in contact sports are at significant risk for traumatic injury to their teeth and mouth. It's estimated 600,000 emergency room visits each year involve a sports-related dental injury.
Athletic mouthguards have become the premier safeguard against sports-related oral injuries. First worn by professional boxers in the 1920s, mouthguards are now required for use by various sports associations and leagues — from amateur youth to professional — for a number of sports. The National Collegiate Athletic Association (NCAA), for example, requires their use during play for hockey, lacrosse, field hockey and football. The American Dental Association recommends mouthguards for 29 sports or exercise activities.
But do mouthguards actually prevent injury? To answer that question in a scientific manner, the Journal of Sports Medicine published an evidence-based report in 2007 on mouthguard effectiveness for preventing or reducing the severity of oral-facial injuries and concussions. While the report objectively analyzed many of the problems and issues associated with mouthguards (like materials, design and durability), it concluded the risk of an oral-facial injury was nearly two times greater without the wearing of a mouthguard.
That being said, most dentists and other professionals in sports safety would advise not all mouthguards are alike. The stock, "off the shelf" mouthguard found in many retail stores with limited size offerings is the least expensive, but also least protective, of mouthguard types. Mouth-formed or "boil-and-bite" protectors, which are softened in boiling water and then bit down on by the player to form the fit, are better than the stock version — however, they often don't cover all of the player's back teeth.
The best option is a custom-designed guard made by a dentist for the individual patient. Although relatively expensive (costs range in the hundreds, compared with $25 or less for a stock guard), they provide the highest recognized level of mouth protection.
The bottom line: a mouthguard is a must-wear part of any uniform for any sport that involves contact or high velocity objects of play. If you or a family member is a contact sport athlete, it's essential you protect your teeth and mouth with a custom-fit, high quality mouthguard.
If you would like more information on mouthguards, please contact us or schedule an appointment for a consultation. You can also learn more about this topic by reading the Dear Doctor magazine article "Athletic Mouthguards."
By Cental Valley Dentist
April 25, 2018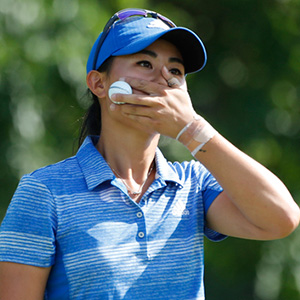 While the sport of golf may not look too dangerous from the sidelines, players know it can sometimes lead to mishaps. There are accidents involving golf carts and clubs, painful muscle and back injuries, and even the threat of lightning strikes on the greens. Yet it wasn't any of these things that caused professional golfer Danielle Kang's broken tooth on the opening day of the LPGA Singapore tournament.
"I was eating and it broke," explained Kang. "My dentist told me, I've chipped another one before, and he said, you don't break it at that moment. It's been broken and it just chips off." Fortunately, the winner of the 2017 Women's PGA championship got immediate dental treatment, and went right back on the course to play a solid round, shooting 68.
Kang's unlucky "chip shot" is far from a rare occurrence. In fact, chipped, fractured and broken teeth are among the most common dental injuries. The cause can be crunching too hard on a piece of ice or hard candy, a sudden accident or a blow to the face, or a tooth that's weakened by decay or repetitive stress from a habit like nail biting. Feeling a broken tooth in your mouth can cause surprise and worry—but luckily, dentists have many ways of restoring the tooth's appearance and function.
Exactly how a broken tooth is treated depends on how much of its structure is missing, and whether the soft tissue deep inside of it has been compromised. When a fracture exposes the tooth's soft pulp it can easily become infected, which may lead to serious problems. In this situation, a root canal or extraction will likely be needed. This involves carefully removing the infected pulp tissue and disinfecting and sealing the "canals" (hollow spaces inside the tooth) to prevent further infection. The tooth can then be restored, often with a crown (cap) to replace the entire visible part. A timely root canal procedure can often save a tooth that would otherwise need to be extracted (removed).
For less serious chips, dental veneers may be an option. Made of durable and lifelike porcelain, veneers are translucent shells that go over the front surfaces of teeth. They can cover minor to moderate chips and cracks, and even correct size and spacing irregularities and discoloration. Veneers can be custom-made in a dental laboratory from a model of your teeth, and are cemented to teeth for a long-lasting and natural-looking restoration.
Minor chips can often be remedied via dental bonding. Here, layers of tooth-colored resin are applied to the surfaces being restored. The resin is shaped to fill in the missing structure and hardened by a special light. While not as long-lasting as other restoration methods, bonding is a relatively simple and inexpensive technique that can often be completed in just one office visit.
If you have questions about restoring chipped teeth, please contact us or schedule an appointment for a consultation. You can learn more by reading the Dear Doctor magazine articles "Porcelain Veneers" and "Artistic Repair of Chipped Teeth With Composite Resin."
By Cental Valley Dentist
July 02, 2017
During his former career as a professional footballer (that's a soccer star to U.S. sports fans) David Beckham was known for his skill at "bending" a soccer ball. His ability to make the ball curve in mid-flight — to avoid a defender or score a goal — led scores of kids to try to "bend it like Beckham." But just recently, while enjoying a vacation in Canada with his family, "Becks" tried snowboarding for the first time — and in the process, broke one of his front teeth.
Some fans worried that the missing tooth could be a "red card" for Beckham's current modeling career… but fortunately, he headed straight to the dental office as soon as he arrived back in England. Exactly what kind of treatment is needed for a broken tooth? It all depends where the break is and how badly the tooth is damaged.
For a minor crack or chip, cosmetic bonding may offer a quick and effective solution. In this procedure, a composite resin, in a color custom-made to match the tooth, is applied in liquid form and cured (hardened) with a special light. Several layers of bonding material can be applied to re-construct a larger area of missing tooth, and chips that have been saved can sometimes be reattached as well.
When more tooth structure is missing, dental veneers may be the preferred restorative option. Veneers are wafer-thin shells that are bonded to the front surface of the teeth. They can not only correct small chips or cracks, but can also improve the color, spacing, and shape of your teeth.
But if the damage exposes the soft inner pulp of the tooth, root canal treatment will be needed to save the tooth. In this procedure, the inflamed or infected pulp tissue is removed and the tooth sealed against re-infection; if a root canal is not done when needed, the tooth will have an increased risk for extraction in the future. Following a root canal, a tooth is often restored with a crown (cap), which can look good and function well for many years.
Sometimes, a tooth may be knocked completely out of its socket; or, a severely damaged tooth may need to be extracted (removed). In either situation, the best option for restoration is a dental implant. Here, a tiny screw-like device made of titanium metal is inserted into the jaw bone in a minor surgical procedure. Over time, it fuses with the living bone to form a solid anchorage. A lifelike crown is attached, which provides aesthetic appeal and full function for the replacement tooth.
So how's Beckham holding up? According to sources, "David is a trooper and didn't make a fuss. He took it all in his stride." Maybe next time he hits the slopes, he'll heed the advice of dental experts and wear a custom-made mouthguard…
If you have questions about restoring damaged teeth, please contact our office to schedule a consultation. You can read more in the Dear Doctor magazine articles "Trauma and Nerve Damage to Teeth" and "Children's Dental Concerns and Injuries."