My Blog
Posts for: January, 2021
By Cental Valley Dentist
January 11, 2021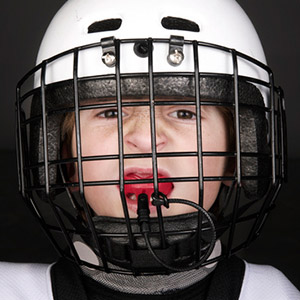 The New Year: Time to put away those holiday decorations, collect tax records and—if you're a pro hockey player—get chummy with your dentist. That's right! After a disrupted 2020 season due to COVID-19, the NHL is on track to start again sometime in January. Before you know it, players will be hitting the biscuit (puck), while trying to avoid getting their chicklets (teeth) knocked out.
It's true that hockey has a roughhousing kind of reputation, which tends to lead to, among other things, chipped, fractured or knocked-out teeth. But to be fair, hockey isn't the only sport with a risk for orofacial injuries. It's not even top on the list: Of all contact sports, basketball has the highest incidence of mouth and facial trauma.
With over a half-million amateur and professional players, hockey still has its share of teeth, gum and jaw injuries. Fortunately, there's an effective way to reduce sports-related oral trauma—an athletic mouthguard.
Although there are different styles, most mouthguards are made of a soft plastic that helps cushion teeth against hard contact. You can sort most mouthguards into two categories: "boil and bite" and custom.
You can buy mouthguards in the first category online or in retail sporting goods stores, and they're relatively inexpensive. They're called "boil and bite" because they're first immersed in hot or boiling water to soften them. While the guard is still soft, the wearer places it in their mouth and bites down to create somewhat of an individual fit. On the downside, though, "boil and bite" mouthguards tend to be bulky with a fit that isn't as exact as it could be. This can make for uncomfortable wearing, which could tempt players not to wear them as often as they should. Also, because the materials are softer, they move with jaw movement and your teeth can move with them. Over time, teeth could loosen.
A custom-made mouthguard, on the other hand, is created by a dentist. We begin the process with a detailed mouth impression, which we then use to fashion the mouthguard. Custom mouthguards are more streamlined and fit better than their "boil and bite" counterparts. Because of this better fit, players may be more apt to wear them. They are more expensive, but compared to the cost of dental injury treatment, a custom mouthguard is a wise investment. For the best and most comfortable teeth, gum and mouth protection, you can't go wrong getting a custom mouthguard for the hockey players (as well as football and basketball players) in your family.
If you would like more information about athletic mouthguards, please contact us or schedule a consultation. To learn more, read the Dear Doctor magazine article "Athletic Mouthguards: One of the Most Important Parts of Any Uniform."
By Cental Valley Dentist
January 01, 2021

If you're intrigued by the strange and bizarre, here's one to pique your interest: geographic tongue. It's a rare condition that causes the appearance of red patches on the tongue surface, surrounded by grayish-white borders, and which look a lot like continents on a map (hence the name). But although it may look odd, geographic tongue won't harm your health.
The condition is also known as benign migratory glossitis, so named because it's not cancerous and the patches seem to move or "migrate" around the tongue surface. The most common causes are thought to be stress or hormonal disruptions in those predisposed to the condition. Many researchers believe zinc or vitamin B deficiencies in the body contribute to its occurrence. It also seems more prevalent among non-smokers and pregnant women, as well as occurring as a family trait.
The red patches are created by the temporary disappearance of some of the papillae, tiny bumps on the tongue's top surface. The patches can abruptly appear during a flareup and then disappear just as suddenly. But as "angry" as the patches may look, geographic tongue is not considered a health danger. It isn't normally painful, although people can experience stinging or numbing sensations emanating from the patches that can be mildly uncomfortable.
Because it's also rare, you're not likely to encounter it personally. But if you or a loved one does begin to notice red patches on the tongue, there are a few things you can do to lessen any accompanying irritation. For one, cut out foods like tomatoes, citrus fruits, eggplant, mint or highly spicy or acidic foods, all of which have been known to increase discomfort. You might also avoid astringents like alcohol or mouthwashes that likewise irritate the patches when they occur.
Although geographic tongue can't be cured, your dentist can help you manage symptoms when they arise with the help of prescribed anesthetic mouthwashes, antihistamines or steroid lozenges. These not only can help lower any discomfort or irritations, they may also lessen the duration of a flareup.
For the most part, geographic tongue usually causes more embarrassment than physical discomfort. But with a little help from your dentist, you can keep it to a minimum. Geographic tongue may be odd, but it's nothing to worry about.
If you would like more information on geographic tongue, please contact us or schedule an appointment for a consultation. You can also learn more about this topic by reading the Dear Doctor magazine article "Geographic Tongue: No Cause For Alarm."