My Blog
Posts for: December, 2018
By Cental Valley Dentist
December 11, 2018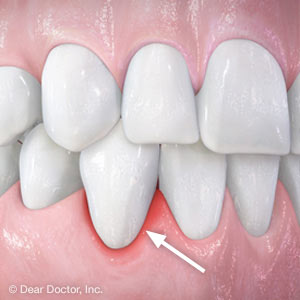 Teeth-replacing dental implants not only look life-like, they're made to last. For one thing, the metals and dental materials used in them are impervious to bacterial infection.
But that doesn't mean implants are impervious to failure. Implants depend on the bone and other natural mouth structures for support. If the bone becomes weakened due to disease, the implant could become unstable and ultimately fail.
Peri-implantitis, the condition that can lead to this kind of failure, is a major concern for implant longevity. It's a type of periodontal (gum) disease triggered by plaque, a thin film of food particles that can build up quickly in the absence of adequate brushing and flossing. The gum tissues around the implant become infected and inflamed.
If the infection isn't properly treated with renewed oral hygiene and clinical plaque removal, it could spread below the gum line and begin to damage the underlying gum tissues and bone. This could destroy the all-important connection between the titanium implant post and the bone. The implant could eventually loosen and become completely detached from the bone.
The key is early intervention before the bone becomes damaged. Besides plaque removal we may also need to apply antibiotics in some form to control the growth of disease-causing bacteria. If the disease has fairly advanced we may also need to consider surgical repair to strengthen the attachment between implant and bone.
You can help to avoid peri-implantitis altogether by practicing consistent daily brushing and flossing around all your teeth including the implant, and seeing your dentist at least twice a year for cleanings and checkups. And by all means see your dentist if you notice any signs of gum swelling, redness or bleeding. Staying on top of your gum health will help not only the natural tissues and remaining teeth in your mouth, it will help preserve your implants for decades to come.
If you would like more information on maintaining your dental implants, please contact us or schedule an appointment for a consultation.
By Cental Valley Dentist
December 01, 2018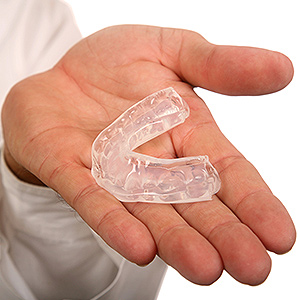 Athletes in contact sports are at significant risk for traumatic injury to their teeth and mouth. It's estimated 600,000 emergency room visits each year involve a sports-related dental injury.
Athletic mouthguards have become the premier safeguard against sports-related oral injuries. First worn by professional boxers in the 1920s, mouthguards are now required for use by various sports associations and leagues — from amateur youth to professional — for a number of sports. The National Collegiate Athletic Association (NCAA), for example, requires their use during play for hockey, lacrosse, field hockey and football. The American Dental Association recommends mouthguards for 29 sports or exercise activities.
But do mouthguards actually prevent injury? To answer that question in a scientific manner, the Journal of Sports Medicine published an evidence-based report in 2007 on mouthguard effectiveness for preventing or reducing the severity of oral-facial injuries and concussions. While the report objectively analyzed many of the problems and issues associated with mouthguards (like materials, design and durability), it concluded the risk of an oral-facial injury was nearly two times greater without the wearing of a mouthguard.
That being said, most dentists and other professionals in sports safety would advise not all mouthguards are alike. The stock, "off the shelf" mouthguard found in many retail stores with limited size offerings is the least expensive, but also least protective, of mouthguard types. Mouth-formed or "boil-and-bite" protectors, which are softened in boiling water and then bit down on by the player to form the fit, are better than the stock version — however, they often don't cover all of the player's back teeth.
The best option is a custom-designed guard made by a dentist for the individual patient. Although relatively expensive (costs range in the hundreds, compared with $25 or less for a stock guard), they provide the highest recognized level of mouth protection.
The bottom line: a mouthguard is a must-wear part of any uniform for any sport that involves contact or high velocity objects of play. If you or a family member is a contact sport athlete, it's essential you protect your teeth and mouth with a custom-fit, high quality mouthguard.
If you would like more information on mouthguards, please contact us or schedule an appointment for a consultation. You can also learn more about this topic by reading the Dear Doctor magazine article "Athletic Mouthguards."